Featured News
---
Winter Weather Preparedness Week 2023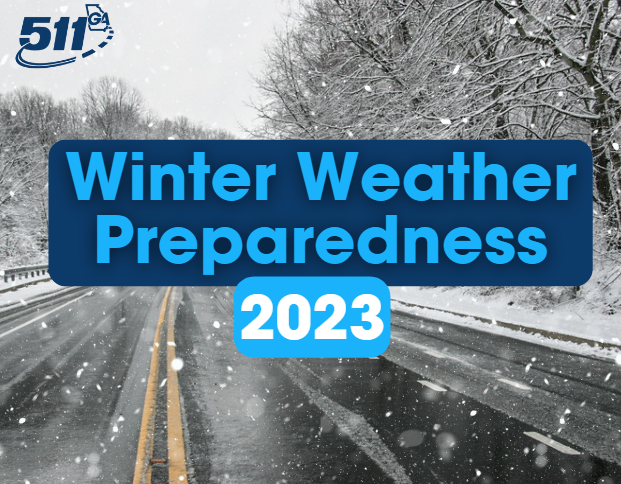 Winter Weather Preparedness Week is Dec. 4 – 8 and is designed to raise awareness of winter weather hazards, reinforce understanding of winter weather terminology and ultimately improve Georgia motorists' readiness for extreme weather during the winter season.
511GA, a complimentary traveler service of the Georgia DOT, is committed to promoting safe driving practices to better inform motorists and assist with arriving safely to their destination, especially in the event of severe winter weather.
As the winter season nears, 511GA encourages travelers to learn about various threats, create an action plan, and develop a safety kit. Below are additional ways to be aware and prepare:
Prepare with 511GA:
Use My511 to set up and create customizable route and area alerts for safe travel.

Check weather conditions on 511ga.org before you hit the road.

Avoid unnecessary travel in inclement weather and do not drive on black ice.

Count on HERO and CHAMP patrollers for roadside assistance on interstates

See how the Georgia DOT is preparing for winter weather and providing the motoring public with additional safety resources: https://www.dot.ga.gov/GDOT/pages/WinterWeather.aspx
Crash Responder Safety Week 2023: Protect Those Who Protect You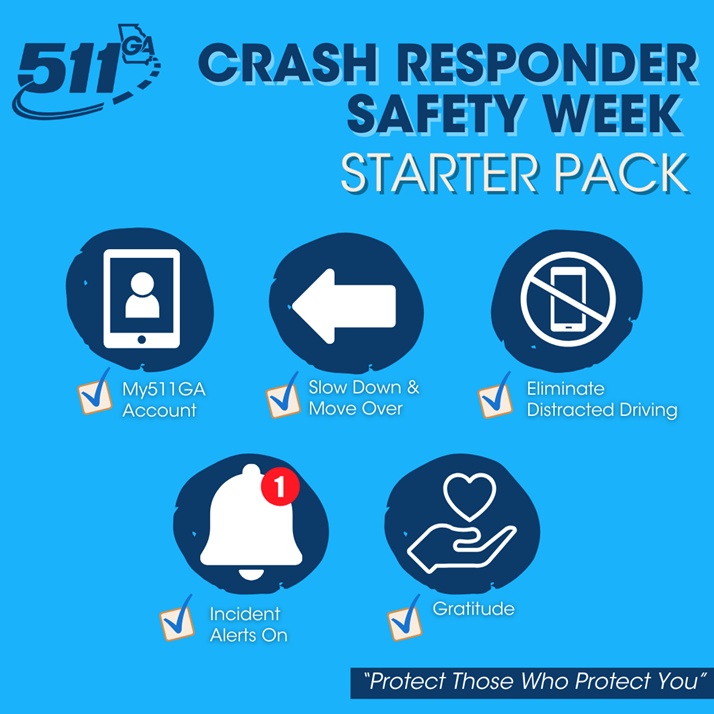 Every year, hundreds of crash responders put their lives on the line to ensure Georgia's roadways remain safe while managing accidents and other roadside emergencies. Whether these responders are law enforcement officials, our very own HERO or CHAMP patrollers, or towers, the work they do on a daily basis to maintain our safety is essential.
From distracted motorists to unfavorable road conditions, crash responders face risks each time they head out. Crash Responder Safety Week offers the chance to display our gratitude for their hard work and to raise awareness about the importance of protecting those who protect us.
511GA not only serves as a resource for Georgia's motorists, but also plays a critical role in securing the safety of crash responders on the front lines:
Real Time Traffic Updates:
Navigating to accidents can be a task for first responders. 511GA's traffic updates provide crash responders with the information needed for them to choose the most efficient routes when heading to an incident.
Weather & Road Condition Alerts:
Georgia's weather can be unpredictable. 511GA's ability to provide up-to-date information on on the state's roadways helps crash responders plan and navigate their daily routes.
Incident Updates:
Once a crash responder gets an initial notification of an incident, that incident can change rapidly. 511GA pushes out alerts pertaining to all updates related to an incident. This can be extremely helpful as crash responders prepare for their arrival on scene.
The use of 511GA can help save your life and the lives of crash responders. This Crash Responder Safety Week let's remember to use the tools at our disposal to ensure that we protect those who protect us. It's not just a suggestion, it's a responsibility.
National Teen Driver Safety Week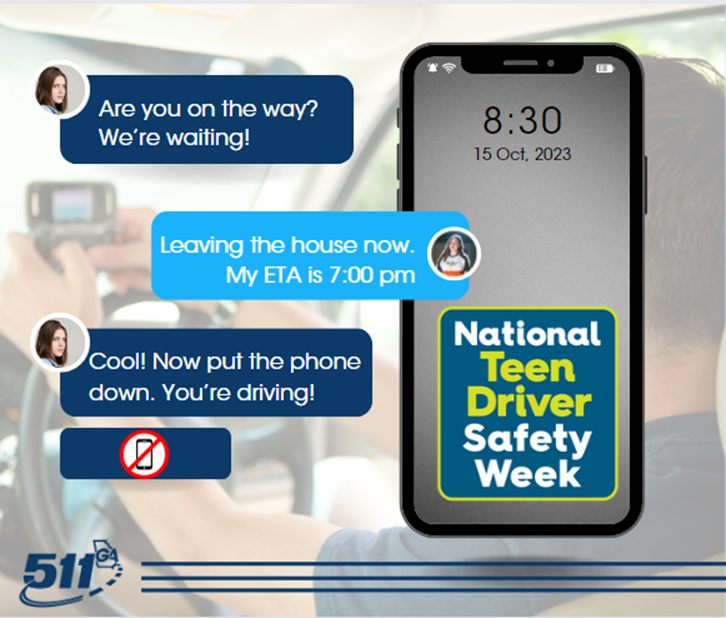 Oct. 15-21 serves as National Teen Driver Safety Week (NTDS). The week is used as an awareness campaign to encourage safe driving habits for teenagers. 511GA annually supports NTDS Week by showcasing the ways in which its services can be essential to driving distraction free.

According to the US Dept. of Transportation, 2,608 people were killed in crashes involving a teen passenger vehicle driver (15-18 years old) in 2021, of which 861 deaths were the teen driver. As a parent, reviewing the rules of the road with your teen is essential and can help save their lives and the lives of other motorists.

This generation's young drivers are constantly influencing their peers via social media. As they step behind a wheel for the first time, it's important that this influence be wielded in a manner that champions roadway safety.

511GA can aid in influencing better driving habits in your teen in the following ways:
1.
Download the 511GA App:
Creating a My511GA account within the
511GA app
presents the opportunity for you and your teen to create predetermined routes saved within the app. Before leaving the house, you both can check the routes for an estimated time of arrival to your teen's destination.
2.
Turn On 511GA Traffic and Weather Alerts:
Listening out for various 511GA traffic and weather alerts in your area can provide much needed assistance when it comes to planning ahead and determining if and when your teen should hit the road
3.
Drive Mode within the 511GA app:
Once your teen backs out of the driveway, a number of distractions are sure to come their way. Telephone usage doesn't have to be one of them. Using the "Drive Mode" version of the 511GA app provides auditory options and traffic alerts for your teen to listen to along their route.
4.
Follow 511GA's social media pages:
The 511GA team is constantly providing traffic updates via their
Twitter
and
Facebook
pages. Both platforms provide motorists with incident details along the roadway, including lane blockage information, mile markers and estimated clearance time.
While no one can predict the roadway mishaps that your teen may encounter on GA's roadways, ensuring that they're well prepared before they head out is a step in the right direction. Introduce the tips above to your teen and ensure that this year's National Teen Driver Safety Week is a safe one!
PRIORITIZING PEDESTRIAN SAFETY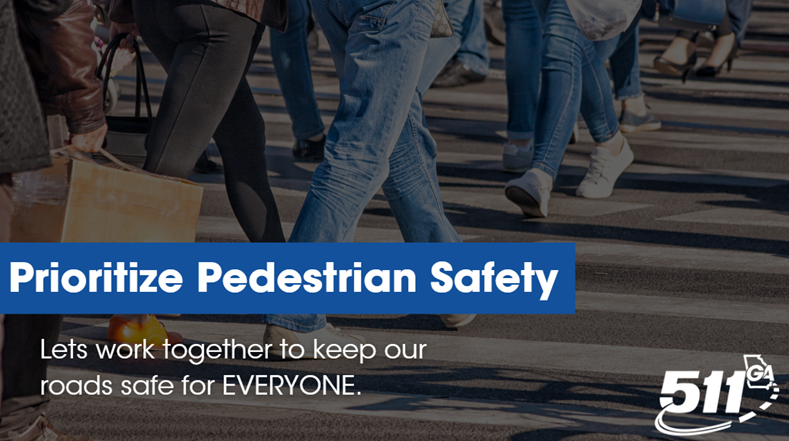 Whether you're a motorist or a pedestrian, remaining aware of the surroundings on the road is essential when preventing incidents. The importance of pedestrian safety remains a shared responsibility and a key component in Georgia roadway safety.

You can reinforce this shared responsibility during the month of October by taking part in Pedestrian Safety Month.

Take a look at how you can assist:
Avoid Speeding:
Reduce your speed near areas where pedestrians are likely to be present, such as neighborhoods and school zones. Slower speeds make it easier to react to unexpected situations.
Stay in Your Car & Wait for 511GA Assistance:
Drivers become pedestrians the moment they step outside of their cars. It's important to be mindful of your surroundings once you exit your car, especially on busy roadways. If you're in need of roadside assistance, remember to remain in your car to minimize your exposure to other passing motorists. Dialing 511 can connect you to HERO or CHAMP assistance. These trained professionals are equipped to handle emergencies on the highway and can provide guidance or assistance as needed.
Pedestrian and Motorists Should Both Lookout for One Another:
a. Pedestrian Responsibility: Pedestrians should always use designated crosswalks and follow traffic signals and signs.
b. Motorist Responsibility: Motorists should exercise patience and caution when encountering pedestrians. Always yield the right-of-way when necessary and be prepared to stop.
For more information on how the Georgia Department of Transportation is leading the charge on pedestrian safety, take a second to view the "See and Be Seen" campaign
here
. Their mission is to usher Georgia's roadways towards a future that includes zero roadway deaths.
You can join this mission. We can reduce accidents and create safer roads for all road users. Let's work together to ensure that our streets and highways are safe for everyone.
National Rail Safety Week 2023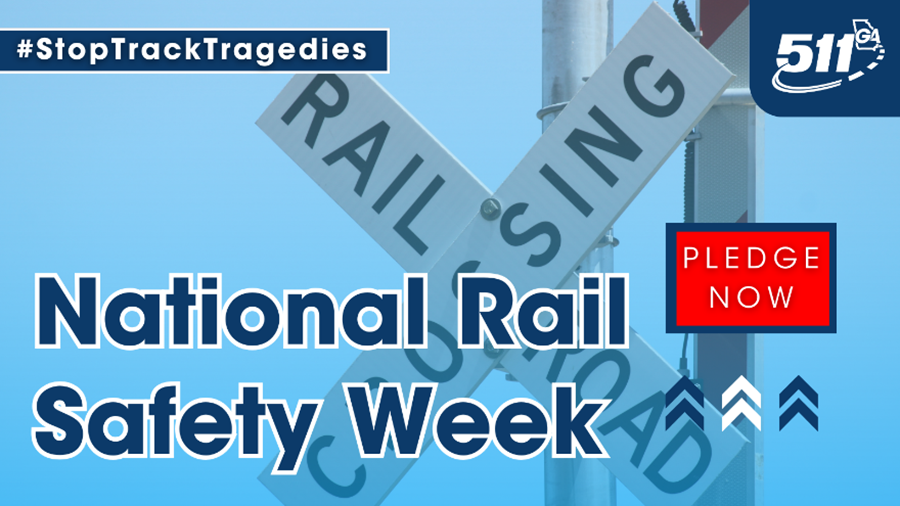 According to Operation Lifesaver
,
a person or vehicle is hit by a train every 3 hours in the United States. 511 Georgia (511GA) encourages you to help #StopTrackTragedies by participating in Rail Safety Week, Sept. 18-24, and implementing simple tips that can save lives.
Fact 1:
The average locomotive weighs about 400,000 pounds. This means that the ratio of a car to train is proportional to that of a soda can to car.
Fact 2:
It takes the average freight train traveling at 55 mph more than a mile to stop which means trains can't stop fast enough to avoid a collision.
Those two facts alone should be more than enough for Georgia motorists to take interest in being equipped with the proper rail safety education. 511GA is here to assist.
Here are few things to keep in mind:
If your vehicle ever stalls on the tracks, get out and get away, even if you don't see a train.
You should cross train tracks ONLY at designated pedestrian or roadway crossings and obey all warning signs and signals posted.
NEVER drive around lowered gates – It's illegal and extremely dangerous.
The Georgia Department of Transportation understands the importance of railway safety and has formed the
Railroad Safety Unit
to identify, reduce, and eliminate hazards at railroad crossings in the state of Georgia. In addition, Georgia DOT's Section 130 program evaluates and funds crossing safety improvements across the state. 511GA's operators are available 24/7 to take reports on the malfunction of any railway equipment.
To do our part, the 511GA team will update some of our dynamic messaging signs to raise awareness during National Rail Safety Week. Be on the lookout at some of the railroad crossings in your area!
You can do your part too:
#StopTrackTragedies by taking the official Rail Safety Pledge here:
https://oli.org/pledge/adults
Use 511 this hurricane season: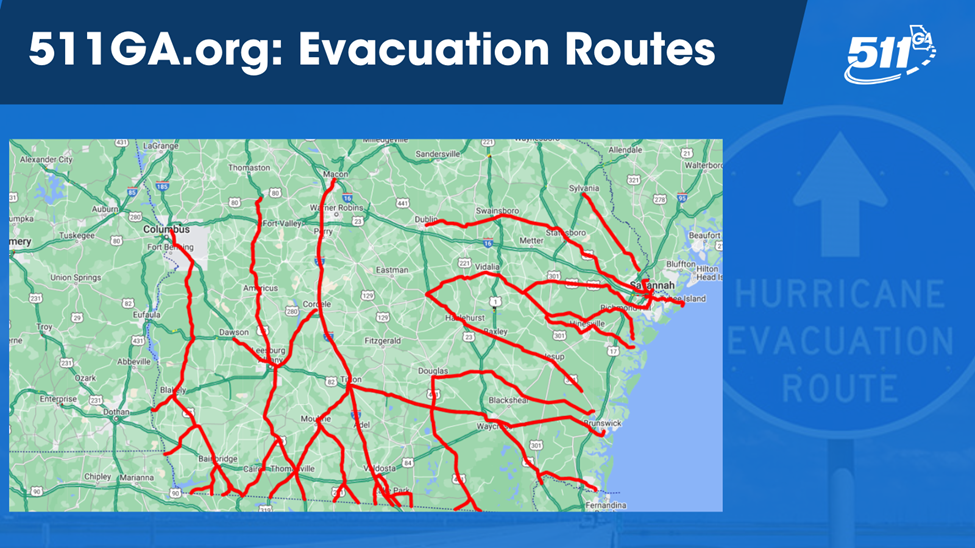 Atlantic hurricane season is currently underway and will last until September 30. Are you prepped and ready? Take a look at 511GA's hurricane preparedness checklist to ensure a safe and successful hurricane season:
1. Plan Ahead
Having a travel itinerary in place can relieve a lot of stress when dealing with inclement weather. Make sure everyone in your household has added a specific evacuation route that leads to a designated safe location to their 511GA app in case an exit strategy is necessary.
2. Prep Your Car for Travel
Remember to ensure that your gas tank in case a quick departure is needed Food, water and medical supplies are necessities during hurricane season. Be sure to confirm that your "to-go" kit is in the car as well. Click here for
"to go" kit
items.
3. Know Before You Go
Hurricane weather can be unpredictable. Use the weather layer feature on 511GA.org or the mobile app to get an idea of the weather in your area as well as your travel destination. In addition, adding the evacuation layer can offer potential evacuation routes.
4. Keep Other Motorists in Mind
You can do your part to help other motorists remain safe. If you happen to travel and see anything that can hinder the safety of other motorists, such as downed trees or powerlines, be sure to call 511 and report it. Our teams will make sure the debris is removed.
5. Sign up for My511 alerts and warnings in your area.
511GA is ready and willing to provide updates for any inclement weather near you. Be sure to sign up for a My511 account so you can tailor your 511GA alerts to receive all weather-related and emergency notifications.
511 operators are available 24/7 to assist motorists reporting incidents or requesting roadside assistance.
For additional info, download Georgia DOT's hurricane brochure here.
Roadside Service Updates:
Since 2007, 511 Georgia (511GA) has been the
Georgia Department of Transportation's
(Georgia DOT) courtesy travel program, providing information on traffic and congestion, as well as dispatching Highway Emergency Response Operator (
HERO
) and Coordinated Highway Assistance and Maintenance Program (
CHAMP
) to motorists on Georgia's interstates.
While Georgia DOT's' HERO implements temporary modifications to its active patrol schedule overnight, 511 operators are always available to help with those requiring assistance on the road.
HERO's new active patrol schedule effective June 16:
Monday-Friday 5 a.m. – 11:30 p.m.
Saturday-Sunday 6 a.m. – 11:30 p.m.
In addition to the temporary schedule modification, the HERO coverage area will also be temporarily modified and CHAMP will adjust routes to supplement HERO's service.
CHAMP actively patrols from 6 a.m. to 10 p.m. seven days a week.
​​​
As always, our 511GA operators remain available 24/7 to assist motorists.
511GA operators can also contact first responder agencies to be dispatched to incidents. Motorists in need of assistance or reporting an incident should simply dial 511, using a mobile device hands-free in accordance with Georgia law.
Continue to follow us on
Facebook
,
Twitter
, or 511ga.org for the latest updates. For full details on the temporary modifications,
visit here
.
THE 16@95 IMPROVEMENTS PROJECT
The 16@95 Improvement Projects will provide infrastructure enhancements to the I-16 at I-95 Interchange and widen along the I-16 corridor from I-95 to I-516. The project benefits to motorists include:
Ease of congestion
Decrease of travel times
Enhancements in motorist safety and travel efficiency
To navigate through the construction zones and stay updated on traffic conditions during the 16@95 Improvement Projects, motorists can make effective use of 511 Georgia. Here are some ways to utilize this valuable resource:
Dial 511: Call to access real-time traffic information, including but not limited to incidents and congestion by speaking with an operator.
Go to 511ga.org: Visit our website for current traffic volumes and customizable, personalized travel notifications with My511.
Use 511 in the Palm of your Hand: Download the 511 Georgia mobile app on Google Play or the App Store for convenient access to roadway alerts and more.
TRANSFORM 285/400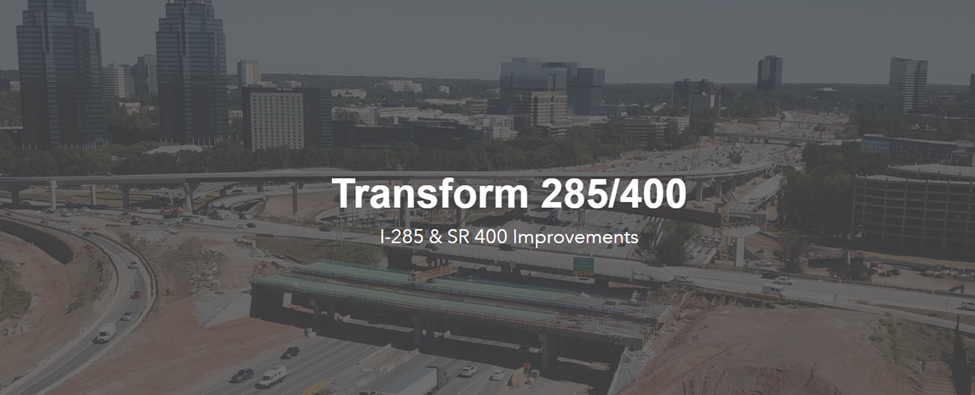 Georgia Department of Transportation's (Georgia DOT) Transform 285/400 Project is designed to help reduce congestion on the I-285/SR 400 interchange in metro Atlanta. By constructing new flyover ramps and collector-distributor lanes, travel on this interchange will be improved and safer for the motoring public in Georgia.
511 Georgia, the Georgia DOT's free traveler program, is here to help you know before you go and be aware of current road conditions and closures. With our many tools and features, you'll be able to stay ahead of the curve with new lane openings and updates from the Transform 285/400 project.
Resources
How you can use 511GA to prepare
Visit 511ga.org: See current road conditions, travel speeds, and use step-by-step navigation to plan your route on I-285 & SR 400.
511 GA App: Have 511GA in the palm of your hands by downloading the app for free on Google Play and App Store.
​​​Call 511: Speak to a live operator if you have travel questions on Georgia's interstates or state routes.
My511: Set up customizable route and area alerts with a My511 account to be notified when traffic changes happen in your specified region or route.
---