Transit News
---
WINTER WEATHER PREPAREDNESS 2022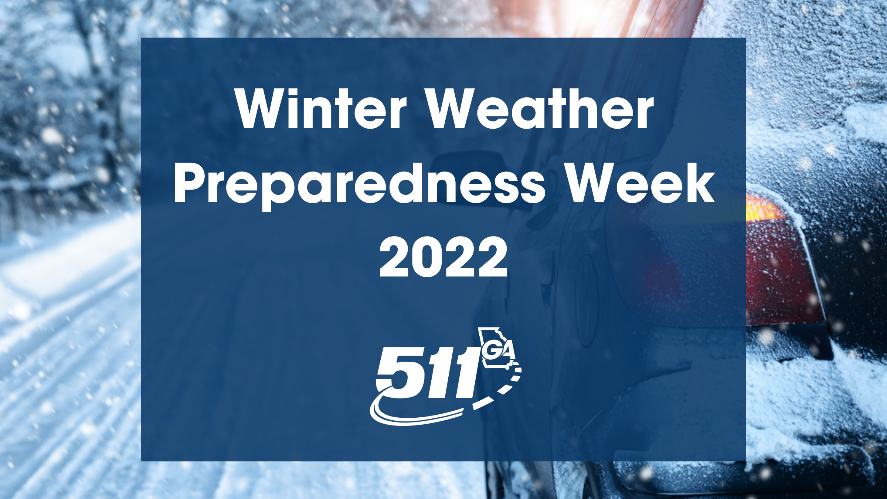 Winter Weather Preparedness Week is Dec. 5 – 9 and is designed to raise awareness of winter weather hazards and reinforce understanding of winter weather terminology.
511GA, a complimentary traveler service of the Georgia DOT, is committed to promoting safe driving practices to better inform motorists and assist with arriving safely to their destination, especially in the event of severe winter weather.
As the winter season nears, 511GA encourages travelers to learn about various threats, create an action plan, and develop a safety kit. Below are additional ways to be aware and prepare with 511GA.

Prepare with 511 Georgia
Use My511 to set up and create customizable route and area alerts for safe travel.

Check weather conditions on 511ga.org before you hit the road.

Avoid unnecessary travel in inclement weather and do not drive on black ice.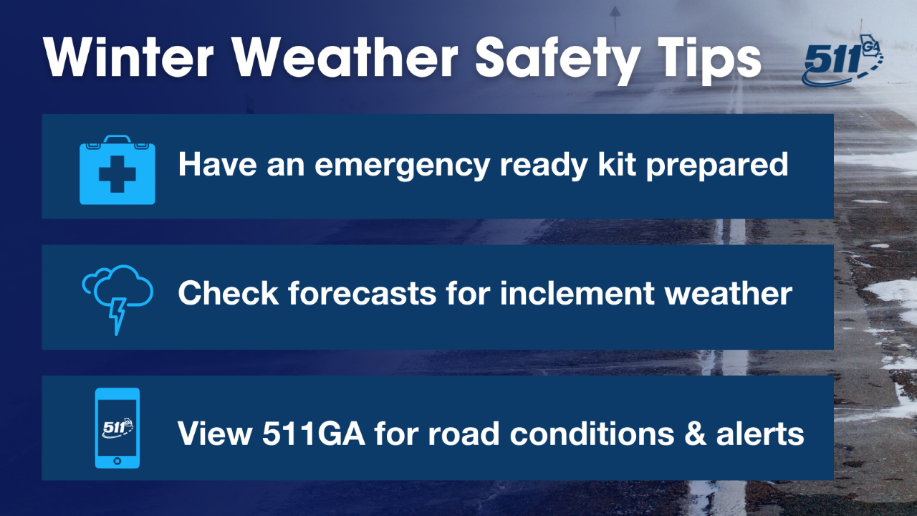 See how the Georgia DOT is preparing for winter weather and providing the motoring public with additional safety resources: https://www.dot.ga.gov/GDOT/Pages/WinterWeather.aspx.
TRANSFORM 285/400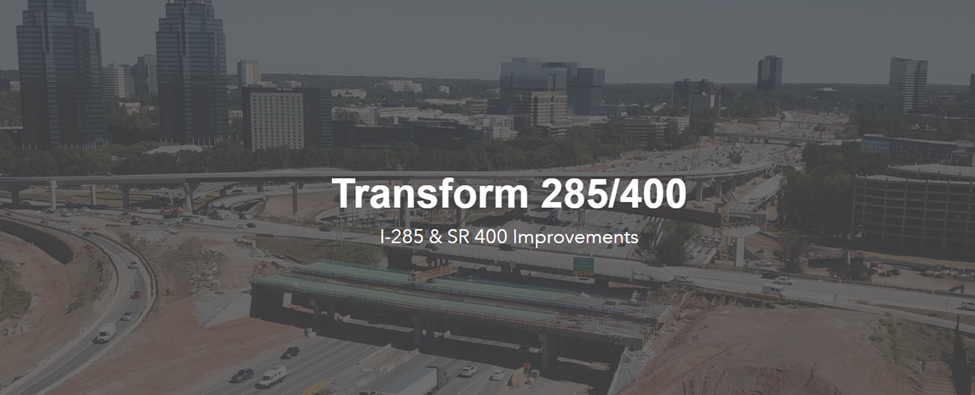 Georgia Department of Transportation's (Georgia DOT) Transform 285/400 Project is designed to help reduce congestion on the I-285/SR 400 interchange in metro Atlanta. By constructing new flyover ramps and collector-distributor lanes, travel on this interchange will be improved and safer for the motoring public in Georgia.

511 Georgia, the Georgia DOT's free traveler program, is here to help you know before you go and be aware of current road conditions and closures. With our many tools and features, you'll be able to stay ahead of the curve with new lane openings and updates from the Transform 285/400 project.
Resources
I-285 Lane Closures
Main Transform 285/400 Page
Sign up for Alerts/News
View Traffic Impacts
How you can use 511GA to prepare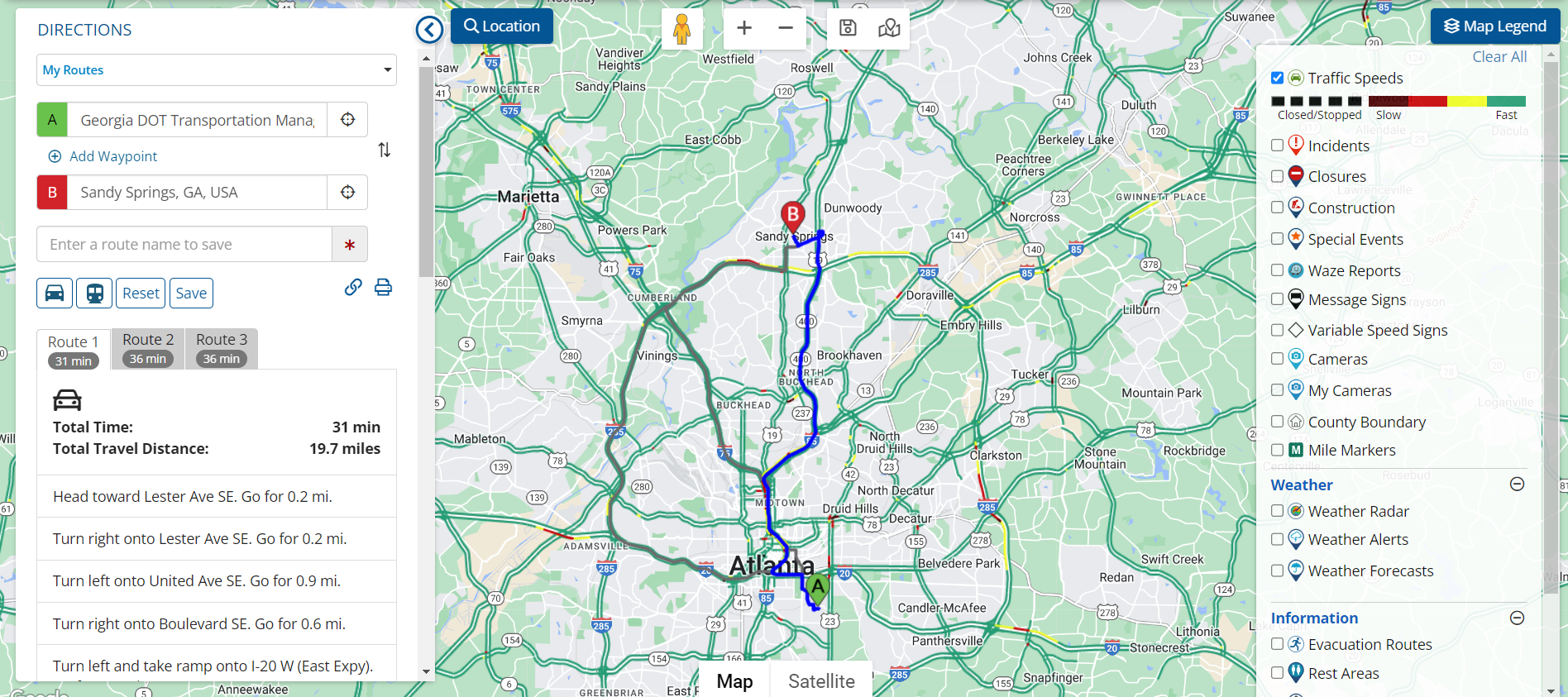 Visit 511ga.org: See current road conditions, travel speeds, and use step-by-step navigation to plan your route on I-285 & SR 400.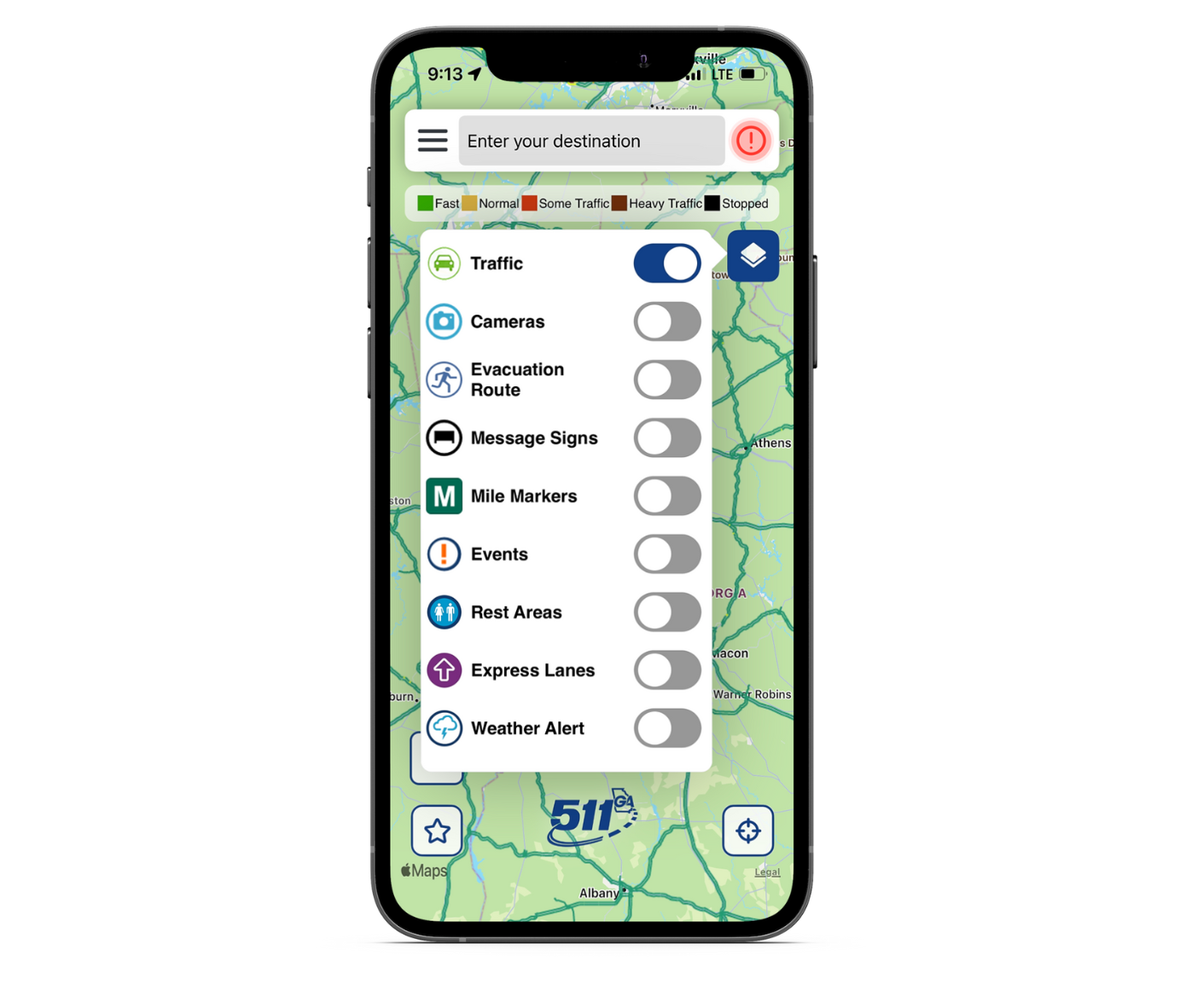 511 GA App: Have 511GA in the palm of your hands by downloading the app for free on Google Play and App Store.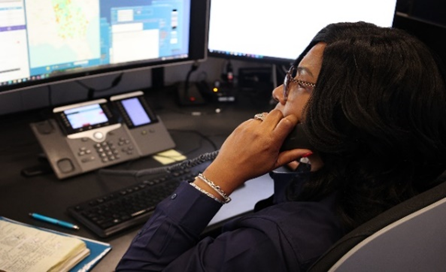 Call 511: Speak to a live operator if you have travel questions on Georgia's interstates or state routes.
My511: Set up customizable route and area alerts with a My511 account to be notified when traffic changes happen in your specified region or route.
---
During Inclement Weather, Include 511GA in Your Plans:
Severe weather happens and when it does, 511 Georgia (511GA) is here for you. While there are many ways to prepare for weather-related hazards, the Georgia Department of Transportation (Georgia DOT) wants to remind motorists to use this free traveler program as an added effort to be aware and prepare.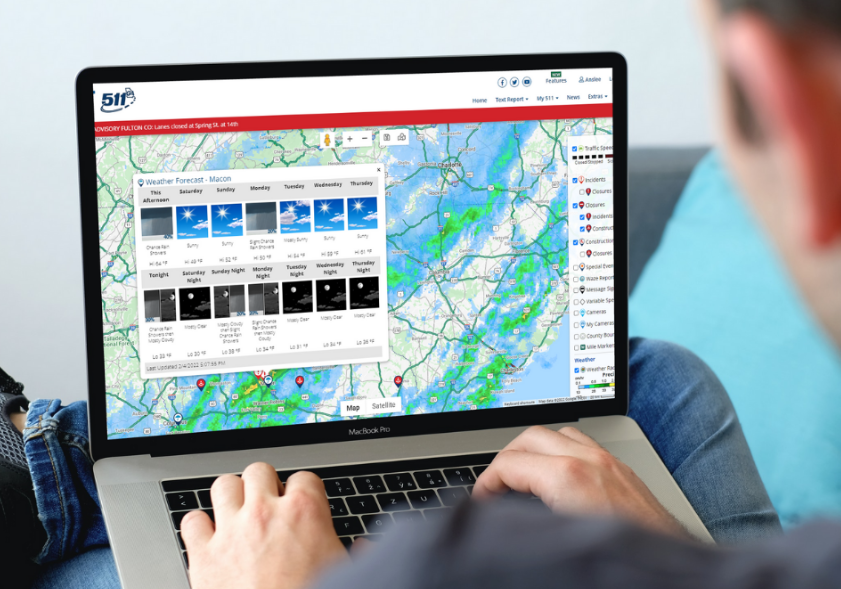 Be Aware & Prepare:
Set Up My511 Alerts: Create personalized route and area alerts to receive via text message or email. You can also subscribe to 511GA Emergency notifications, which alert users of emergency incidents, weather alerts, and more posted to 511ga.org. Register today to be in the know: 511ga.org/my511/register.
Check Radar: The updated 511GA.org integrates current weather conditions, radar, and forecasts across the state. Easily view the weather layers by toggling them "on" in the map legend and know what to expect before they hit the road.
Look Ahead: 511GA provides access to more than 3,400+ traffic cameras across the state, available on the website or mobile app. Scroll through cameras to view current traffic and road conditions.
Download the App: 511GA's mobile app directly connects you to the state's traveler information system and provides step-by-step navigation, access to traffic cameras, rest area locations, dynamic message signs, and shows current congestion. The free 511GA app is available via the Apple or Google Play App Store.

When dangerous weather hits, 511GA is here for you:
24/7/365: 511GA is located at Georgia DOT's Transportation Management Center in Atlanta where live, local Operators are available 24/7/365 to answer motorists' calls and provide travel information and dispatch roadside assistance.
Incident Reporting: When inclement weather hits, the chance of down powerlines or trees increases. If you come across dangerous debris, down trees, or powerlines on the interstate, call and report it to 511 so the proper crews can be dispatched to the area and it tracked in the traveler system.
Roadside Assistance: Motorists in need on Georgia's interstates can easily call 511 to request assistance from Georgia DOT's HERO (Highway Emergency Response Operators) and CHAMP (Coordinated Highway Assistance & Maintenance Program). HERO patrols interstates in metro Atlanta and CHAMP covers interstates outside of metro Atlanta. If stalled, stuck, or in need of gas, these programs are there for you.
Learn more ways you can be better equipped when traveling to your destination with 511GA
here.
---
Hurricane season: prepare with 511 Georgia
June 1st to November 30th is Hurricane Season in Georgia. The state receives varying levels of impact due to its tropical systems from the Atlantic Ocean to the Gulf of Mexico. Extreme wind gusts and heavier-than-usual downpours can cause unprecedented damage to Georgia's shorelines and roads. It is vital that the motoring public in Georgia adhere to safety precautions if they are in an area with severe and hazardous weather.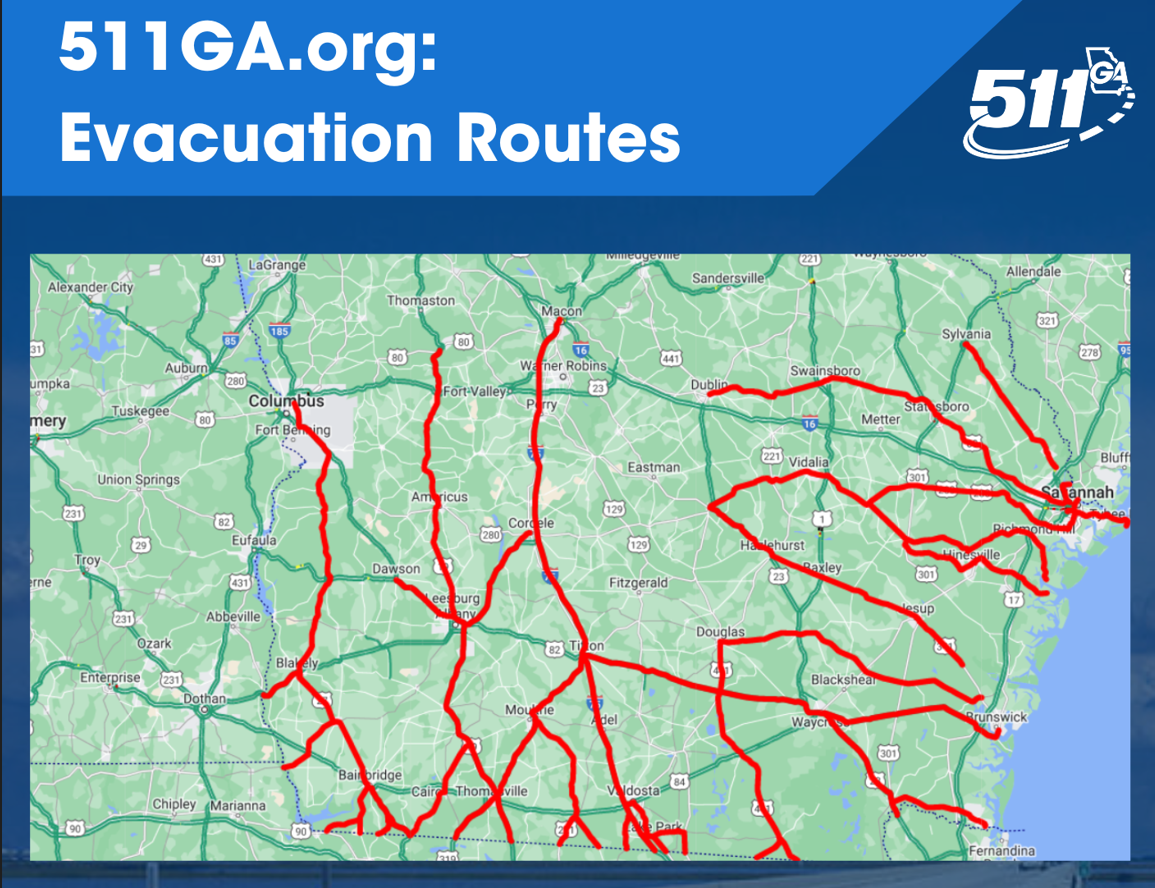 511GA Services and Resources:
Evacuation Routes: Routes are available on 511ga.org by toggling the map legend to view them.
Incident Reporting: When inclement weather hits, the chance of down powerlines or trees increases. If you come across dangerous debris, down trees, or powerlines on the interstate, call and report it to 511 so the proper crews can be dispatched to the area and it tracked in the traveler system.
Weather Radar: View the weather radar on 511ga.org to see current forecasts in any given area in the state.
24/7 Operators: Call 511 to speak with an operator for real-time road conditions, travel alerts, and more.
Rest Area Status: Avoid unnecessary travel in inclement weather. Check in with 511 Georgia to view the status of a rest area and stop by if you're on the road to stay safe.
More Information:
As a reminder, 511GA encourages motorists to drive defensively and be alert in the case of any inclement weather. 511GA is available 24/7 via phone, web, and mobile app to help travelers arrive safely at their destination.
---